The Museum of Decorative Arts
in the Riverside and Upper Palaces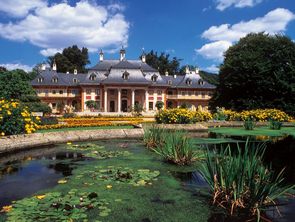 The Museum of Decorative Arts of the Dresden State Art Collections was founded in 1876 as an exemplary collection of handcraft and industry. It has had its home in the Riverside and Hillside Palaces of Pillnitz Castle since 1963. Its showrooms invite visitors from the beginning of May until the end of October.
Changing special exhibitions
The Museum of Decorative Arts is dedicated to the question of how design shapes the world surrounding us. In its exhibitions, the Museum of Decorative Arts positions itself between experiment and tradition and tells us a lot of creating shapes, processing, human interdependencies or technologies.
Permanent exhibitions
At the Riverside Palace, the topical focus is on Saxon and European arts and crafts of the 17th and 18th century. Opposite to it, at the Hillside Palace, the tour of the exhibition sets out from the topic of manufactories. Across all sorts of materials, it visualizes how industrialization has affected manufacture, design and sales since the 18th century. Moreover, the exhibition in the Hillside Palace demonstrates the development of arts and crafts from the late 18th century up to now.
Another speciality is the Display Storeroom Deutsche Werkstätten in the east wing of the Hillside Palace.
An extensive inventory of furniture and so-called 'smaller appliances' illustrates how the world of living and working was newly defined and envisaged in Dresden around 1900.
At the Museum of Decorative Arts, several historical premises can be visited, such as the 1900 Yellow Tearoom in chinoise style, the Watteau Hall with murals à la Watteau by Dresden artist Christian Ernst Dietrich as well as three rooms with walls designed by architect Christian Traugott Weinlig, dating from the last third of the 18th century.