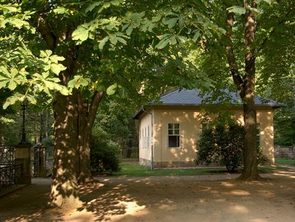 The »Small Guard House« cottage is situated next to the hedged walkway quarters at the Maillebahn alley on the western border of Pillnitz Park. It was erected for the concierge of the castle in 1864 and reconstructed in 2003/04. It has now been available for rent since 2009 as a holiday home for up to four people.
Facilities
The living space of the holiday home is about 75 m².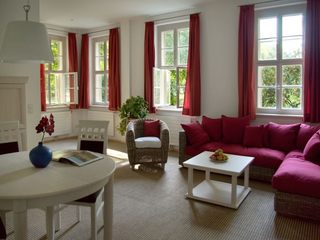 Corner wicker ottoman, with many cushions for relaxing
Round pull-out dining table with six chairs
TV with an integrated DVD player (public service channels only)
Highboard holding literature on Dresden and Saxony as well as games
Two-seater pull-out sofa providing for extra beds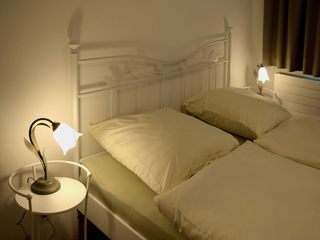 Romantic metal-frame bed with round bedside tables, large wardrobe
Lighting in Florentine style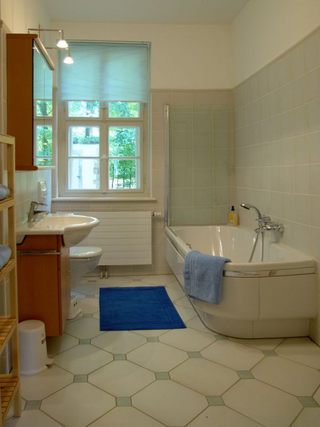 Bathtub, toilet, wash basin
Shelf, mirrored bathroom cabinet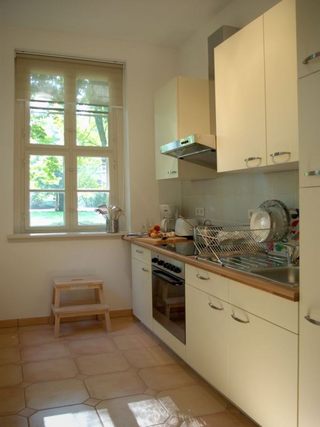 Kitchen unit with a ceramic cooktop and oven
Dinnerware, pots, coffee maker, electric water jug and further accessories
Outdoor furniture and lounger cushions for outdoor use available
A parking space is reserved near the ferry pier (about 200m away). Driving up to the house is permitted for loading and unloading.
No pets allowed. Non-smoking house.
Rates and booking
For two people
April - October and
1 December to 6 January
First night € 110,00
Second night € 80,00
From third night
and any night following € 60,00
November - March
(not from 1 Dec to 6 Jan)
Per night € 60,00
Applies at any time
Since 1 February 2014, the City of Dresden has raised a resort tax for persons aged 18 and over. For further Information please contact us.
Information and booking at the »Old Guard House« Visitor Center:
Staatliche Schlösser, Burgen und Gärten Sachsen gemeinnützige GmbH
Schloss & Park Pillnitz
August- Böckstiegel- Straße 2
01326 Dresden
Tel.: +49(0)351 26 13-260
Fax.: +49(0)351 26 13-280
E-Mail: pillnitz@schloesserland-sachsen.de
Haven't found what you're looking for?

Stay overnight in the schloesserland
Find more accommodations in the schloesserland here.
More information