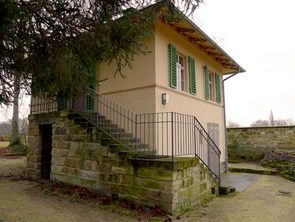 The »Trumpeter's House« garden house is situated on the south-west border of Pillnitz Castle Park on the Elbe River bank. It was erected for the castle trumpeter in 1863; reconstructed in 2003/2004, the small holiday home has space for two people.
Facilities
The 40-m²-large holiday apartment can be reached via an external staircase.
Hallway with a clothes rack with mirror, hooks and repository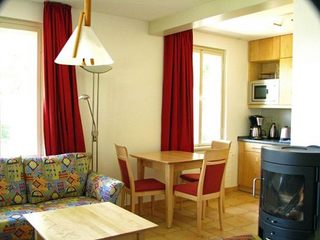 Corner couch, table and one armchair
TV (public service channels only), radio
Dining table and three chairs
Double bed and built-in wardrobe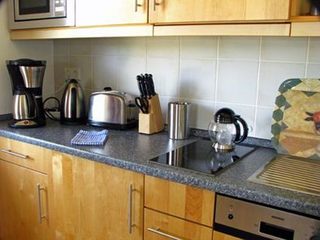 Kitchenette with a ceramic cooktop
Fridge, dishwasher, microwave
Dinnerware, pots, coffee maker, electric water jug
Outdoor furniture and lounger cushions for outdoor use and use on the terrace available. Bikes can be safekept on the ground floor.
A parking space is reserved near the ferry pier (about 200m away). Driving up to the housed is permitted for loading and unloading.
Pets permitted. Non-smoking house.
Rates & booking
For two people
April - October and
1 December to 6 January
First night € 100,00
Second night € 75,00
From third night
and any night following € 50,00
November - March
(not from 1 Dec to 6 Jan)
Per night € 50,00
Applies at any time
Since 1 February 2014, the City of Dresden has raised a resort tax for persons aged 18 and over. For further information please contact us.
Information and booking at the »Old Guard House« Visitor Center:
Staatliche Schlösser, Burgen und Gärten Sachsen gemeinnützige GmbH
Schloss & Park Pillnitz
August- Böckstiegel- Straße 2
01326 Dresden
Tel.: +49(0)351 26 13-260
Fax.: +49(0)351 26 13-280
E-Mail: pillnitz@schloesserland-sachsen.de