The Pillnitz Camellia (Camellia japonica L.)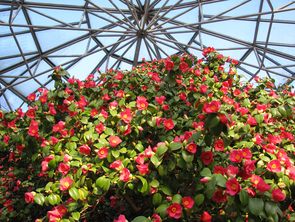 The Camellia, a genus in the tea plant family (Theaceae), originates from Southeast and East Asia. Tea plants are evergreen shrubs or small trees of which about 82 varieties are known. The first plants of attractive Camellia japonica were brought to Europe by merchants in the 17th century. However, despite its great fame, the origin and precise age of the Pillnitz Camellia still remain a mystery to the present day.
Legend has it that Swedish botanist Karl Peter Thunberg (1743-1828) brought four Camellia plants from his expedition to Japan in 1779 to the Royal Botanical Gardens at Kew near London. One sample remained in Kew, whereas the other three plants are said to have been passed on to the gardens at Herrenhausen near Hannover, at Schoenbrunn near Vienna and at Pillnitz near Dresden. Of those, the Pillnitz specimen would be the only surviving plant, which must have reached the Dresden Court between 1780 and 1790. In as early as 1801, that Camellia was planted by court gardener Terscheck in the place where it is still today.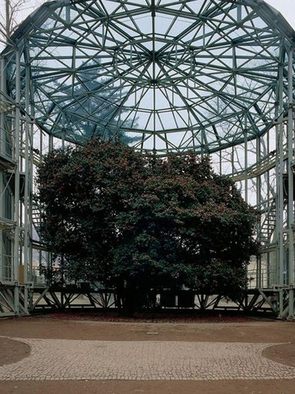 From its very beginning, the Camellia was protected by wooden housing during winter. Much can be read in the records about how sophisticated its setup and dismantling was every year. In January 1905, the protective housing even caught fire. Having frozen into an iceberg at minus 20° Celsius, the extinguishing water protected the plant, which nonetheless started to thrive again in the spring of the same year. In 1992, the Pillnitz Camellia was given a new and, for the first time, mobile protective shelter, within which the temperature, ventilation, humidity and shading are controlled by an air conditioning computer. The house is 13.2 m high, weighs 54 tons and encompasses an air volume of 1,864 m³.
In the warm season, the house is rolled aside, next to the Camellia. Meanwhile, the 200-year-old Camellia has grown to a height of 8.60 m and a diameter of almost 11 m. During its time of blossom, from mid-February to April, it has tens of thousands of bell-shaped carmine blossoms. Every year, a limited number of layers from the Pillnitz Camellia is sold during its time of blossoming, which makes it especially worthwhile visiting.